Rocsys to demo robotic charging at VOLTS 2023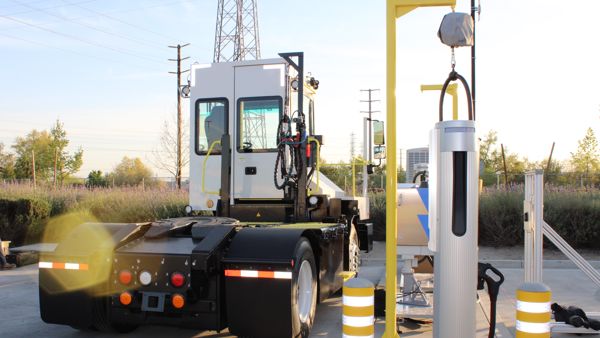 Rocsys to demo robotic charging at VOLTS
The upcoming Vehicle Interoperability Testing Symposium (VOLTS) aims to provide a platform for end-to-end testing to help accelerate the market ramp-up of e-mobility. This year, the symposium is taking place in Port of Long Beach, California – and Rocsys will be taking part with live demos.
CharIN's VOLTS event runs from May 9th-11th 2023 and will help connect automakers, EVSE (Electric Vehicle Supply Equipment) hardware and software providers, electric utilities, test labs, and policymakers. It provides a forum for electric vehicle interoperability testing, networking, and demonstrations.
Rocsys is excited to be an event sponsor and will be demonstrating autonomous EV plug-ins with the ROC-1 robotic charger on Wednesday, May 10th at 10:00-10:20am PST, during the public testing symposium and EV roadshow.
The ROC-1 is a revolutionary charging robot that promises to transform the way we charge electric vehicles—from cars to buses, to medium and heavy-duty trucks. It leverages AI-based computer vision and patented soft robotics to successfully plug into the EV socket without human intervention, nor any modifications to the EV or EV charger.
Visit Rocsys at the event and attend the demonstration to see how autonomous charging can seamlessly integrate with existing fleets and charge sites. Drawing from its experience in deployments with CCS-1 and CCS-2, Rocsys will also discuss the potential for autonomous charging to complement the forthcoming Megawatt Charging Standard (MCS), which was specifically designed with Automated Connection Devices (ACDs) in mind.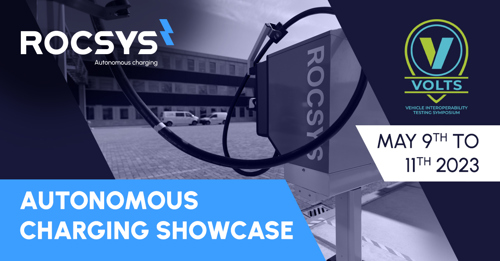 The VOLTS event is organized by CharIN (Charging Interface Initiative), a leading global association empowering green energy and e-mobility. Rocsys is a proud member of the CharIN charging sub-group. CharIN is dedicated to promoting interoperability based on the Combined Charging System (CCS) as the global standard for charging electric vehicles.
Learn more about attending the VOLTS event or book your tickets here.
Rocsys presence in North America 
Rocsys introduces autonomous charging to Electric Vehicle (EVs) fleets. By combining robotics, computer vision, and data-driven services, Rocsys ensures that EV charging is reliable, seamless and cost-effective. Rocsys is an international venture-funded company with US operations based out of Portland, Oregon.  
Recently, Rocsys, signed an order of agreement with SSA Marine, the world's largest independent, privately-held marine terminal operator, to supply autonomous charging systems. The systems will autonomously charge part of the electric yard tractor fleet of SSA Marine at the International Container Terminal at the Port of Oakland.