eVersum & Rocsys partner in developing autonomous charging of eShuttles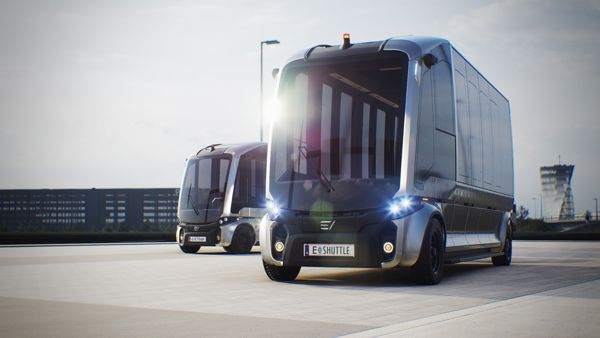 eVersum & Rocsys partner in developing autonomous charging of eShuttles
eVersum, a vehicle OEM, specialized in the design, development and build of purposefully engineered electric commercial vehicles for passenger transportation, has selected Rocsys, a company which creates autonomous charging solutions, to develop and deploy reliable autonomous, robotic charging systems for eVersum's eShuttles.
eVersum has selected Rocsys to develop and deploy autonomous, robotic charging solutions with eVersum's eShuttles. Robotic charging solutions are new to the market and industry standards are currently in development. The partnership between eVersum and Rocsys will allow fleet operators to experience the benefits of robotic charging and eShuttles in advance of finalized, open industry standards. The now agreed collaboration will work to develop autonomous charging communication protocols between the vehicle and Rocsys robot. Making use of existing standard charging connectors, such as CCS, the Rocsys solution will work seamlessly with eVersum's eShuttles to scale pilots into larger fleet applications.
eVersum eShuttles are modularly designed and able to comfortably transport 15 to 50 passengers for various applications at the right costs. The eShuttles are currently operated by a driver, however, there are well advanced plans with partners to make future eShuttles autonomous. Rocsys' autonomous, robotic charging solution will provide a safe and reliable charge to support the critical operation of passenger transportation.
 Crijn Bouman, CEO of Rocsys, says: "Our goal is to power clean transportation by making charging autonomous. We create reliable autonomous charging solutions by combining soft robotics and cutting-edge computer vision technologies. We are glad to see that eVersum is taking autonomous charging into consideration as a part of the electrified transportation ecosystem, as it is an inevitable part of the future. Through this cooperation, we will strengthen and support each other in the development of autonomous clean transportation. Together we enable commercial vehicle operators to electrify their fleets in a sustainable way. We look forward to this cooperation with eVersum."
 "The eVersum eShuttles are destined to define a new category in the electric shuttle bus segment. eVersum aims to offer its customers spectacular looking and thoroughly engineered vehicles, as well as entire public transport eco-systems. Such turn-key solutions will ultimately include innovative charging infrastructure, depending on requirements and specific applications", says Holger Postl, CEO at eVersum.
 "Autonomous, robotic fast-charging solutions in combination with opportunity charging will enable us to offer our customers smaller battery packs, reducing our vehicle weight and energy consumption. Other benefits include higher fleet availability and reduced risk of depleted batteries during operations. Together with our customers, we have identified many applications that can be operated by battery electric vehicles, rather than combustion engine vehicles, where total cost of ownership is significantly lower,", adds Jürgen Heinrich, eVersum's Managing Partner & Head of Sales.
About Rocsys
Rocsys is a fast-growing, high-tech, and innovative company with one mission: Powering clean transportation by making charging autonomous. Rocsys creates reliable autonomous charging solutions by combining soft robotics and cutting-edge computer vision technologies, in combination with data-driven services for fleet optimization. Ultimately, we want to enable our customers to electrify their fleet sustainably.
Rocsys was founded in 2019 and is based in the Netherlands. In August 2021, it opened an office in the United States.

About eVersum
eVersum is a privately held company (GmbH) with headquarters in Austria and engineering & manufacturing sites in Austria and Slovenia.
As an OEM of electric city buses, mid-size shuttles, and on-road & off-road electric trains, combined with complementary products and services, eVersum can facilitate an efficient transition from combustion engine based public transport to a paradigm-changing, affordable because TCO optimized and electrified transport system that customers positively perceive. eVersum builds upon years of experience & expertise of its multi-national core team, which makes eVersum a trustworthy, tangible, through and through European partner in enabling the creation of sustainable urban transport environments.
13 October 2021