e-Mobility Consortium Charging Energy Hubs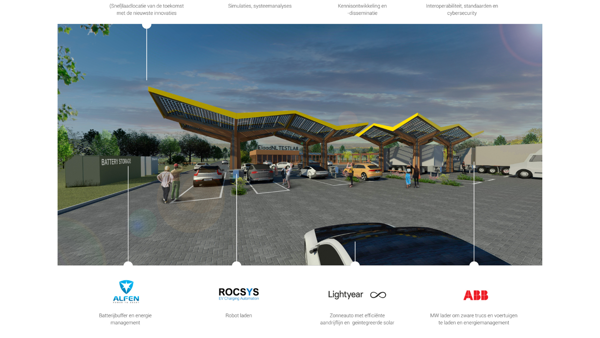 e-Mobility Consortium submitted to the National Growth Fund to accelerate the electrification of the logistics sector
Together with Heliox, Brainport Development, and our other partners, we submitted a proposal to the National Growth Fund to accelerate the electrification of the logistics sector.
By connecting charging infrastructure, renewable energy sources, energy storage, and local consumers, flexibility is created that can be used when the electricity network is experiencing congestion or balancing issues. This offers a solution for grid congestion and the business case of investments in charging infrastructure.  
With the support of the National Growth Fund, we want to realize the Consortium's plans to accelerate the transition to sustainable mobility and further strengthen the leading position of the Dutch e-Mobility sector.  
The full collaboration consists of the following parties: AME, DAF, DAMEN, DC Systems, DENS, Dynniq, FIER, Firan, Fontys, HAN, Heliox, Fluidwell, KEMA, Maxem, NKL, Prodrive Technologies, Recoy, Renewable EnergyFactory (REF ), Rocsys, Scholt Energy, Shell, Stichting ElaadNL, Sycada, TNO, TSN Groen, Eindhoven University of Technology, Van Berkel Logistics, VanKessel, XYZ Dynamics, Zero Emissions Services (ZES). With support fromBrainport Development and RAI Automotive Industry NL.
Source: Press release Heliox