Rocsys unveils robotic charging on America's first public truck charging station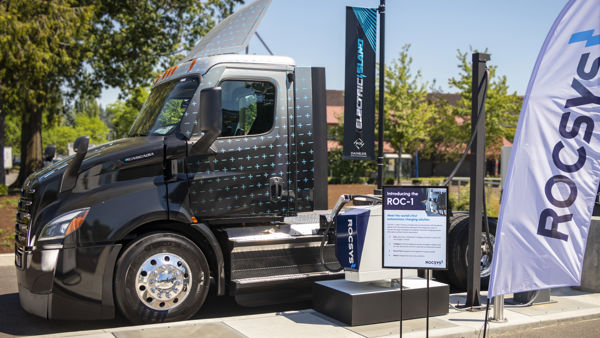 Rocsys unveils robotic charging on America's first public charging station for commercial and heavy vehicles
Rocsys, the world's first provider of autonomous charging solutions powered by robotics and artificial intelligence, will demonstrate autonomous charging at Electric Island in Portland. Electric Island is a joint development between Daimler Truck North America and Portland General Electric and is the first-of-its-kind public charging station for medium- and heavy-duty electric commercial vehicles in the United States.
This public demonstration will show autonomous charging of a Class 8 Freightliner eCascadia at an on-site high-power DC fast charger.
Electric Island was created to accelerate the development, testing and deployment of zero emissions commercial vehicles. The existing site provides 12 charging stations with power levels up to 200kW. Additional charger installations are envisioned for the site using the Megawatt Charging Standard, which could provide a total connected load approaching five MW of capacity.
Rocsys' live deployment at Electric Island showcases robotic charging for EV drivers and EV fleet customers. Robotic, autonomous charging enables dependable and fast charging while also reducing the wear and tear on charging cables and connectors. Rocsys solutions work in combination with any high-power DC charging station that uses a CCS-1 charging connector, thus allowing autonomous charging with existing charging equipment.
     
About Rocsys
Rocsys introduces autonomous charging to Electric Vehicle (EVs) fleets. By combining robotics, computer vision, and data-driven services, Rocsys ensures that EV charging is reliable, seamless and cost-effective. Rocsys is an international venture-funded company with US operations based out of Portland, Oregon.
 
About Daimler Truck North America
Daimler Truck North America LLC, headquartered in Portland, Oregon, is a leading provider of comprehensive products and technologies for the commercial transportation industry. Daimler Truck North America designs, engineers, manufactures and markets medium- and heavy-duty trucks, school buses, vehicle chassis and their associated technologies and components under the Freightliner, Western Star, Thomas Built Buses, Freightliner Custom Chassis Corp and Detroit brands. Daimler Truck North America is a subsidiary of Daimler Truck Holding AG (DTG), one of the world's leading commercial vehicle manufacturers.

About Portland General Electric
Portland General Electric (NYSE: POR) is a fully integrated energy company based in Portland, Oregon, with operations across the state. The company serves approximately 900,000 customers with a service area population of 2 million Oregonians in 51 cities. PGE owns 16 generation plants across Oregon and other Northwestern states and maintains and operates 14 public parks and recreation areas. For over 130 years, PGE has delivered safe, affordable and reliable energy to Oregonians. Together with its customers, PGE has the No. 1 voluntary renewable energy program in the U.S. PGE and its 3,000 employees are working with customers to build a clean energy future. In 2020, PGE, employees, retirees and the PGE Foundation donated $5.6 million and volunteered 18,200 hours with more than 400 nonprofits across Oregon. For more information visit portlandgeneral.com/news.
Portland (OR), June 27, 2022
Download: Press image Electric Island