How Electric Vehicle Innovations are Charting a Course for Sustainable Supply Chains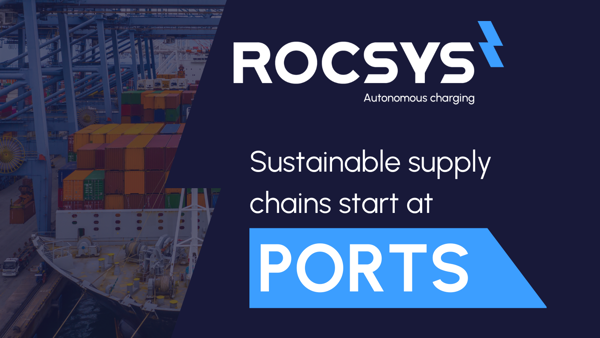 Zero-Emission Ports: How Electric Vehicle Innovations are Charting a Course for Sustainable Supply Chains
Crijn Bouman, Co-founder and CEO
While supply chains are the linchpin of modern economies, they are also responsible for much of the greenhouse gas emissions produced by everyday products and services. It's a complex system tied together by maritime transportation, with 90% of goods carried by ocean shipping.  
Electrifying maritime trade could eliminate nearly 3% of total emissions while embedding sustainability into the very fabric of our global economy. But with so many moving parts, where should we focus our efforts? Like goods in the supply chain, shipping decarbonization starts at ports.  
Greener supply chains start at ports  
Once considered pollution hotspots, with drayage trucks, yard tractors, and idling vessels emitting fossil fuels around the clock, ports now offer one of the best and most tangible opportunities for advancing electric mobility. In fact, many ports have already committed to achieving carbon neutrality in the next decade. 
The benefits of EVs in ports go far beyond lowering emissions in the shipping industry, including improved air quality in local communities, more resilient coastal environments, and better conditions for workers. Here's how recent technology, market, and policy shifts are opening port sites to a range of sustainability-boosting—and value-generating—changes: 
Electric port equipment ready to do the heavy lifting 
The announcement that major retailers have committed to zero-emissions shipping vessels by 2040 made headlines, but electric vehicles are already powering port operations. New electric heavy-duty vehicles feature improved range, increased payload capacity, and a lower total cost of ownership. And with short-haul routes and centralized refueling, drayage vehicles are great candidates for electrification among industrial EVs.  
But it's not just trucks; electrified equipment like cargo handlers and harbor crafts are increasingly making their way onto port sites, including powerful new models from Hyster and Taylor. Even massive equipment like yard cranes are going electric, proving that end-to-end electric ports are feasible today. Previously, higher upfront costs and infrastructure gaps dissuaded ports and contractors from adopting EVs. But that's all changing. 
Public support jumpstarts investments in sustainable ports 
Policies like California's 2035 target for zero-emissions drayage trucks are pushing port operators to act. Fortunately, many governments recognize that these targets are ambitious and are offering unprecedented incentive funding to facilitate compliance. This includes the $3 billion Clean Ports Program and the $1 billion in the Inflation Reduction Act dedicated to zero-emission heavy-duty vehicles, as well as more targeted programs covering drayage trucks, cargo handling equipment, and infrastructure.  
What's more, government signals are giving private finance and tech companies the confidence to invest in the electric port infrastructure and service ecosystems, like the $400 million partnership between the startup Forum Mobility and real estate giant CBRE. It's a positive feedback loop already generating new business models and breakthroughs.   
Technology takes the guesswork out of the clean energy transition 
Recent advances in sustainable technology are making it easy to procure, operate, and power electric equipment. As the adoption of solutions like Internet of Things (IoT) platforms and wave energy ramps up, technology will empower workers to make the best use of EVs while transforming ports into clean energy leaders.  
Early adopters like the Long Beach Container Terminal are already seeing positive results, with LBCT achieving a throughput of nearly 14,000 twenty-foot equivalents (TEUs, a unit based on container ship volumes) per acre per year under its electrified "new model," up from 5,000 TEUs before the transition.  
Here's a deeper dive into two of the most promising innovations:  
Smart grids 
Electrification requires connecting to the utility grid, which means more power being drawn across port sites simultaneously—some question whether today's utilities are ready for the task.  
Enter smart electric grids. Smart grids use data analytics, battery storage, and local renewable energy generation to balance supply and demand. These systems help optimize electricity use while reducing grid strain and price hikes when energy demand is the highest. But beyond ensuring consistent and affordable power, smart grids could turn ports into local clean energy hubs through complementary interventions like vessel-to-grid and shore power. 
Charging assistance technologies 
Electrification will create new demands on port workers. For example, the Port of Los Angeles estimates that electrifying its cargo handling equipment could create up to 3,100 new jobs. Charging may seem like a small task, but it's a substantial new responsibility and an entirely different protocol for the drivers in an environment with minimal margin for error.  
Even beyond efficiency concerns, we need to protect workers and drivers; with massive pieces of equipment constantly moving around, the reality is that ports are hazard-filled operations. Fortunately, technology can support worker safety and the health of port businesses.  
Charging assistance systems can plug vehicles and equipment in and out without requiring manual intervention or exposing workers to high-voltage cables and heavy machinery. Hands-free, intelligent charging may seem futuristic, but technology like Rocsys's ROC-1 is already playing a pivotal role in realizing zero-emissions ports. For example, Rocsys's partnership with SSA Marine, the world's largest independent marine terminal provider, is a key component of a grant-supported initiative to electrify yard tractors at the port of Oakland, reducing emissions while improving vehicle uptime and equipment longevity. 
The gateway to a low-carbon future  
The electric transition is not just an environmental necessity but a once-in-a-generation chance to boost resilience and unlock new sources of value across global supply chains. Yet, for ports to seize the moment, we need stakeholders like regulators, OEMs, shipping companies, and others to step up with more innovations, collaborations, and commitments. Because what starts at ports will surely travel across the world.