Hyster® trucks to use Rocsys robotic charging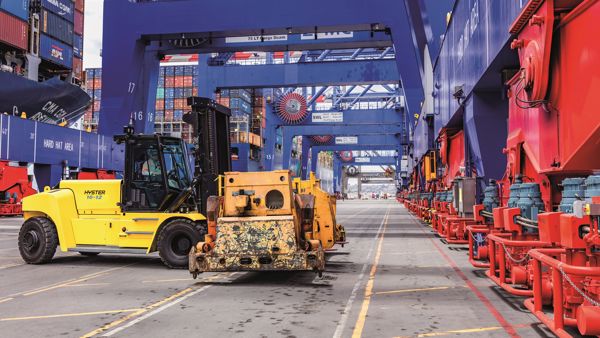 Hyster® trucks to use Rocsys robotic charging
Ahead of TOC Europe 2023, Hyster confirms that Rocsys will provide autonomous charging solutions for selected Hyster® electric port equipment.
Rocsys will deliver its ROC-1 autonomous charging system for use with zero-emission Hyster Terminal Tractors, with the possibility to extend to other Hyster electric trucks. Using the robotic ROC-1 solution, parked machines can be both plugged in and charged automatically, helping to support efficiency and uptime in ports.
"Rocsys is thrilled to introduce the first autonomous charger for Hyster. By harnessing cutting-edge soft robotics, AI technology, and continuous data-driven monitoring, we offer a reliable and secure charging solution," says Crijn Bouman, CEO and Co-founder of Rocsys.
Crijn continues: "The high power requirements of electric vehicles can result in heavy and inflexible charging cables, which may be challenging to handle. Our innovative system eliminates this issue, helping to support safety and efficiency without compromising performance."
The ROC-1 robotic charging solution works with any type of charger and can use a standard CCS (Common Charging System) inlet. The new Hyster Terminal Tractor, which previews at TOC Europe from 13th – 15th June, will also feature standardized CCS1 or CCS2 capabilities. This may help make the transition to electrics easier, while supporting scheduled and opportunity charging in operations.
"One of our aims is to work with partners and champion new technologies that provide solutions to simplify the transition to electrification in ports and terminals," says Jan-Willem van den Brand, Director Global Market Development at Hyster.
"In working with Rocsys, we are helping our customers to explore the possibilities of robotic charging for electric trucks.  If the autonomous charging route best suits their application needs, this integrated solution may make it simpler and quicker for them to get started," he continues.
As well as being an option for selected Hyster equipment, the ROC-1 autonomous charging system will also be implemented at the Hyster test center in Weeze, Germany. Rocsys will use the Hyster site to carry out autonomous charging demonstrations for zero-emission port equipment customers. This will enable further development of the system and help to verify the performance of robotic charging for operations in harsh environments.
Learn more at TOC Europe, Rotterdam, from 13th – 15th June 2023. Visit Hyster at Stand C11 and Rocsys at Stand C10.
About Rocsys

Rocsys is the leader in autonomous charging solutions for electric transportation. With an innovative approach that combines soft robotics, AI-based computer vision, and data-driven services, Rocsys creates a reliable, seamless, efficient, and cost-effective charging experience for fleets and consumers. Rocsys ensures reliability in charging by removing the risk of operator errors and maximizing efficiency, enhancing safety by limiting exposure to high-voltage equipment. With patented technology, Rocsys can easily transform any existing charger into an autonomous system backed by a cloud-connected platform for support and frictionless integration with other fleet management tools. Founded in 2019 and headquartered in The Netherlands, with U.S. operations based out of Portland, Oregon, Rocsys is setting the standard for the future of autonomous charging with leading roles in industry consortiums and strategic partnerships with multinational corporations and OEMs. www.rocsys.com
About Hyster

Hyster® is one of the leading global brands of materials handling equipment and Hyster Europe, a trading name of Hyster-Yale UK Limited, a subsidiary of Hyster-Yale Group, Inc. is a leading worldwide lift truck designer and manufacturer, offering more than 140 models of counterbalance trucks, warehouse, and container handling equipment. The company invests heavily in research and development to ensure Hyster® products are at the forefront of the materials handling industry providing maximum dependability and low costs of ownership for demanding operations everywhere.
Hyster-Yale Group, Inc.is a wholly owned subsidiary of Hyster-Yale Materials Handling, Inc. (NYSE:HY) which is headquartered in Cleveland, Ohio and operates globally. www.hyster.com  
Contact Rocsys:
Sandra Idzenga
Head of Marketing & Communications
M: +31 6 1943 20 47
E: sidzenga@rocsys.com
W: www.rocsys.com
Publication date: June 8, 2023