How Rocsys and Hyster are collaborating to support port electrification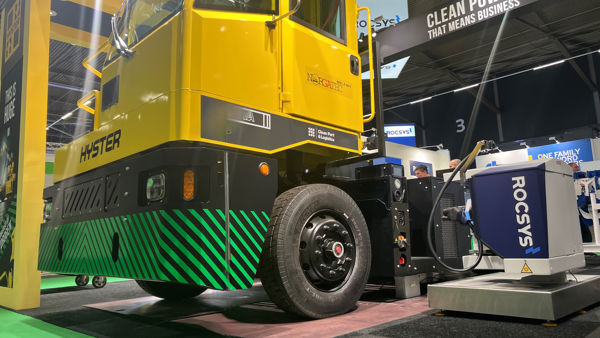 How Rocsys and Hyster are collaborating to support port electrification
A number of major ports, including many in the US, need to achieve zero emissions operations by 2030 to meet local regulations. This is driving interest and innovation in the electrification of port equipment. At the same time, many port, terminal, and logistics operators have expressed that charging and scheduling may prove a hurdle to the adoption of electric equipment. To help overcome these challenges, Rocsys is partnering with organizations in the ports and terminals sector to deliver a hands-free and autonomous approach to vehicle charging.
For example, Rocsys has collaborated on a project with Hyster, a leading designer and manufacturer of lift trucks, materials handling equipment, and container handlers. This has resulted in the development of a 'Rocsys-ready' zero emission terminal tractor.
Hyster has been making electric machines for decades. However, implementing large electric vehicles in intensive port operations requires new solutions.
Handsfree charging for port equipment
Here's where Rocsys hands-free charging  provides a solution. By automating the charging process, the vehicle automatically recharges without needing the operator's intervention. This means vehicles can be charged during breaks or shift changes, which in turn can improve efficiency and reduce vehicle downtime.
Hands-free charging also helps remove human error from the charging process. No time will be lost due to an operator neglecting to plug in a vehicle and leaving it without charge for the next shift. Automating the charging process means personnel will no longer need to be trained in proper charging procedures, allowing them to focus on other responsibilities.
Technology with machine learning
Rocsys hands-free charging combines soft robotics with AI-based computer vision technology. Once the vehicle pulls up to the charger, the charger automatically plugs in, and the charging process begins. A camera takes photos of the process, which feeds machine learning and helps increase accuracy. This is particularly important during the arduous conditions commonly found in ports, due to salt water, wind, rain, and snow. It also means that the smart technology can take into account small variations in charger and vehicle position to provide a consistent charging process. For example, wear in tires or asphalt might reduce the height of the vehicle, meaning the charger has to adjust to plug in. It also accounts for human error, such as parking at an angle, or parking further away from the charger.
Rocsys understands that port operations are critical. The system's well-trained algorithms result in reliable operation from day one. And with the Rocsys API, operators can monitor the charging systems remotely Troubleshooting will take place remotely and can signal the support on site in the rare situation that on-site support is required. Operation data of the Rocsys systems can be made available to the TOS or other site management software tools.
Hyster and Rocsys collaboration
Hyster and Rocsys showcased their collaboration at the TOC Europe 2023 tradeshow in Rotterdam, the Netherlands. Now, Hyster is testing and validating its zero-emissions terminal tractor before delivery to the customer. This will put the Rocsys charging technology and methodology into action, opening the doors for even greater opportunities to further reshape the future of electric vehicles in port and terminal operations. Rocsys is committed to pioneering solutions that make charging easier, more efficient, and sustainable. Supporting the journey toward greener, more efficient port and terminal operations is only just beginning.
Contact our team to discuss charging solutions for supporting operator safety and electrification in your port operations.
Download the White Paper now!
Why Hands-Free makes sense for ports? Download and learn more.